Temporary ADs and Alternatives Advertisement
Related Pages
Find us in your area
Enter your LGA to find LASAA office closest to you
[table "0" not found /]
TEMPORARY ADVERTISING
Are you an advertiser thinking about a short term advert scheme for your clients or you need just 24/48 hours to make your clients fulfilled by getting an approval to showcase his products and services? Temporary advertisements deliver with a variety of choices beautifying your outdoor environment to your taste.
Temporary adverts project advertisements which are carried out within a short period for not more than three months. Temporary signs can also be erected for two years; this is applicable only in special considerations of Temporary adverts.
These advertisements includes Road shows, Feather signs, banners, Water advertising such as water buoys, Inflatable, Wall drapes, Gazebos, City walkers, Cart/Trolleys, Flags, Branded T-shirts and Development Board.
ROADSHOW ADVERTISEMENT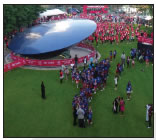 Road show adverts is very common and majorly used in projecting advertisement by advertisers. This is due to its flexibility and movement flows, helping advertisers to meet their consumers directly.
Road show accommodates most of the Temporary adverts at the same time, it could be banners, feather signs, wall drapes, city walkers, etc and that is why it is widely used in the state (Lagos).
ROADSHOW BUNDLE OFFER
| OFFER | PRICE (Annum) | PRICE (Quarterly) |
| --- | --- | --- |
| Unlimited number of branded t-shirts,banners on rig/vehicle, city walkers, and feather signs | 5 Million naira only | 1.5 Million naira only |
| Unlimited number of branded t-shirts, banners on rig/vehicle, city walkers, feather signs and POS activations | 10 Million naira only | 3 Million naira only |