LASAA Begins Clampdown on All Outdoor Advertising Debtors
Find us in your area
Enter your LGA to find LASAA office closest to you
[table "0" not found /]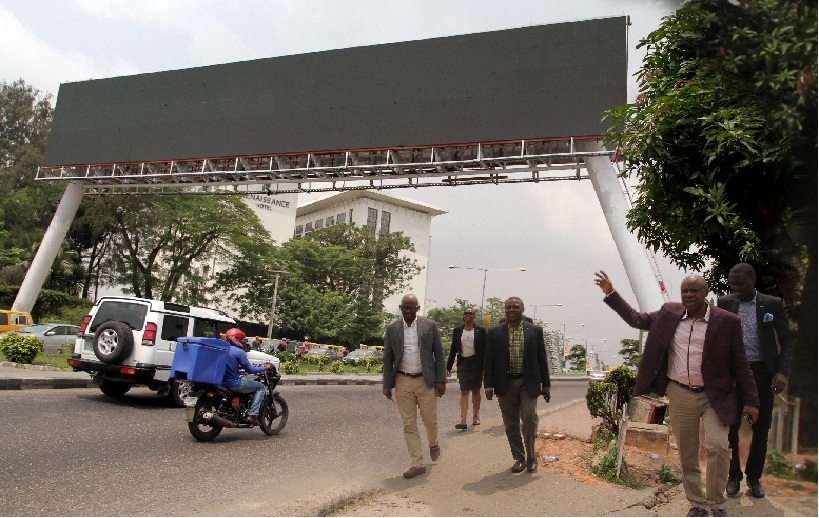 L-R: Head Monitoring Compliance and Enforcement, Mr Siraj Bello; DGM Operations' Mr Mutiu Bello; Managing Director/CEO Lagos State Signage & Advertisement Agency, (LASAA), Mr Mobolaji Sanusi;Head Corporate Affairs & PR Temitope Akande and other officials of LASAA during a compliance and enforcement exercise of the Agency recently.
L-R: Managing Director/CEO Lagos State Signage & Advertisement Agency, (LASAA), Mr Mobolaji Sanusi;DGM Billing and Debt Recovery, Mr. Bayo Ajibola; DGM Operations Mr. Mutiu Bello;Head Corporate Affairs & PR Temitope Akande ; Head Monitoring Compliance and Enforcement, Mr Siraj Bello; during an enforcement exercise of the Agency recently.
In compliance with the directive of His Excellency, Mr. Akinwumi Ambode the Governor of Lagos State, to all Ministries and Agencies in the State to commence enforcement on defaulters and debtors, the Management of the Lagos State Signage and Advertisement Agency has concluded plans to clampdown on all debtors of the Agency.
Speaking at a recent stakeholders' parley, the Managing Director, Mr. Mobolaji Sanusi stated: "We have just finished our strategy session to know how best to enforce those on our debtors list."
He added that, "We are scaling up our compliance and enforcement exercise to ensure that all pending outstanding dues to the Agency are paid up before the end of the year. For clarity, we have categorized our enforcement teams into billboards, business signs and mobile advert vehicles."
According to Sanusi, "For billboards, we are going after all the defaulters who have refused to pay up their yearly permit fees."
He noted that, "In line with our collection model, all billboard owners are subjected to a payment plan every year and we have discovered that 60% of the categories that are supposed to have paid up their outstanding to the Agency, are still in default," he revealed.
Speaking further, Sanusi noted that corporate businesses are also going to feel the enforcement exercise. In his words, he said: "Some big corporate organizations are still in default for their business premises signs and the branding on their official vehicles. We will ensure they are all captured for enforcement."
The Managing Director stressed the need for businesses to always ensure tax compliance at all times rather than wait for government agencies to carry out enforcement.
In his words, "The revenue we collect forms a reasonable fraction of what His Excellency needs to provide his super structure infrastructural demands of our dear State. Hence, there is the need for all those owing the State, not only in the realm of outdoor advertising, but also in other spheres of public commitment to our government. After all, our administration has been delivering and meeting public expectations in this regard.''
Sanusi, however, stated that his Agency is committed to the growth of the outdoor industry as well as the aesthetic of the commercial city of Lagos, urging stakeholders in the industry to join hands with LASAA to move the industry forward in the area of professionalism and prompt payment of rates.
Also speaking on the exercise, the Assistant General Manager, Monitoring Compliance and Enforcement, noted that all plans are in top stage to carry out the directive. "Our enforcement team is already revved up for the task at hand; all our teams are fired up for the task ahead".
While urging practitioners to cooperate with the Agency, he noted that the benefits of tax are all available for everyone to see in Lagos State in terms of infrastructural renewal and many other visible developments.
In a related development, LASAA recently launched its 2018 Mobile Advert sticker for all branded vehicles in Lagos. It is expected that all branded vehicles captured as fleet are registered for a permit with the Agency. The Agency has also warned all its clients to desist from patronizing middle men and do business directly with any of its offices situated in all the Local Government of the State.
SIGNED:
TEMITOPE AKANDE
HEAD CORPORATE AFFAIRS/P.R.
LAGOS STATE SIGNAGE & ADVERTISEMENT AGENCY
10TH NOVEMBER, 2017.