LASAA warns against attack on Agency officials
Find us in your area
Enter your LGA to find LASAA office closest to you
| OFFICER | TITLE | LGA | OFFICE | ADDRESS |
| --- | --- | --- | --- | --- |
| Shittu Elizabeth | Mrs | Agege | 07028021414 | Agege Local Government Maternity Office, Agege |
| Rabiu Wasiu Adebisi | | Ajeromi- Ifelodun | 07028701533 | Ajeromi Revenue office, Berger Suya by Cement Bus stop |
| Aghedo Edosa | Mrs | Alimosho | 07028021424 | Rm B28, Ikotun / Igando LCDA, Ikotun |
| Oghenevwairhe Sota | | Amuwo Odofin | 07028021437 | 41RD, FESTAC TOWN |
| Adegboyega Olayinka Taye | Mrs | Apapa | 07028701513 | Apapa Local Government, Burma Road, Apapa |
| Oladapo Babawande Akinkunmi | | Badagry | 07041443835 | Badagry House, Ajara, by Secretariat, Badagry |
| Omonua Oluwasegun Monday | | Eti- osa | 07028021404 | City Hall, Catholic Mission Street, (CMS), Lagos Island |
| Yedenu Micheal | | Ibeju-Lekki / Epe | 01-8996573 | City Hall, Catholic Mission Street, (CMS), Lagos Island |
| Olusesi Ayodele | | Ifako-Ijaiye | 01-8996570 | Ikeja Local Government, Obafemi Awolowo Way, Ikeja |
| Akintola Funmi | Mrs | Ikeja | 07028701509 | Ikeja Local Government, Obafemi Awolowo Way, Ikeja |
| Salu Olubanke Arinola | Mrs | Ikorodu | 07028701512 | TOS Benson Road, Ikorodu |
| Omiwade Adebola | Mrs | Ikoyi-Obalende | 08191889102 | City Hall, Catholic Mission Street, (CMS), Lagos Island |
| Sogbanmu Dehinde Jamiu | | Kosofe | 07028021429 | Kosofe Local Government, Ogudu Round About, Ogudu |
| Aluko Adeolu Adebayo | | Lagos Island | 07029063122 | City Hall, Catholic Mission Street, (CMS), Lagos Island |
| Olatunji Titilayo Ruth | Mrs | Lagos Mainland | 07028701516 | Yaba LCDA, Adekunle Bus stop, H/M way |
| Awoyemi Olakanbi Taiwo | | Mosan- Okunola | 07028021427 | Mosan Okunola LCDA, Council Road, Water Bus stop, Mosalasi, Ayobo-Ipaja Road |
| Olajide Mariam Abisola | Mrs | Mushin | 07028701507 | Mushin L.G. Office Annex, Oliyide Street, opposite Mushin General Hospital |
| Isi Henry Uwazuluonye | | Ojo | 07028021488 | Ojo Local Government, Olojo Drive, Ojo |
| Akinsanya Temitope Timothy | | Onigbongbo | 07028701511 | Ikeja Local Government, Obafemi Awolowo Way, Ikeja |
| Akitah Rebecca Orji | Mrs | Oshodi / Isolo | 01-8996567 | Oshodi Local Government, Oshodi |
| Abdul Taiwo Ololade | | Shomolu | 01-8996576 | Shomolu L.G.A. Annex, Humani Street, Shomolu |
| Adejumo S. Adeyinka | | Surulere | 07028701542 | Onile gogoro by Masha Bus stop |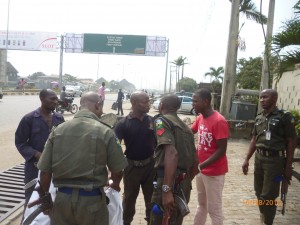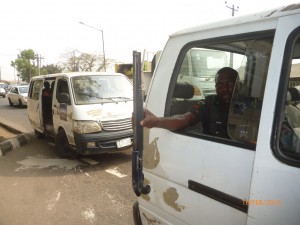 The Lagos State Signage and Advertisement Agency (LASAA) has warned members of the public to desist from physically attacking officials of the Agency in the course of carrying out lawful official duties within the state.
Speaking to reporters on the issue, Managing Director of the Agency, Mr Mobolaji Sanusi deployed a recent attack on the staff of the Agency.
Specifically he stated that "an attack on the Agency's team was led by a security guard attached to Emglo Suites in Festac Lagos. He noted that the armed guard on duty on the said day descended on LASAA officials in their effort to remove an illegal banner within Emglo Suite premises. He further revealed that the security guard threatened the officials of LASAA with a pump action rifle in his possession which was later seized by the Police Monitoring Team attached to the Agency.
Mr Sanusi further reminded that "an attack on LASAA staff is an attack on the State". Speaking further, he noted that the last attack or any subsequent ones on the Agency's officials will be accorded the seriousness it deserves. He stated further that those behind the last attack have been arrested and handed over to the Lagos State Task Force for necessary legal action.
Further checks with the Agency revealed that Emglo Suites is indebted to the Agency with outstanding due for advertisement permit fees. The visit by LASAA was part of effort to ensure quick settlement of all the outstanding debt owed the Agency. It will be recalled that the agency officials experienced similar attacks in the wake of the last general elections.